The out-of-office, carefree glow has faded since my five-day jaunt around Copenhagen but the restorative effect of a city break continues to pay off. It is fairly obvious, I know, but I often need to force myself to go away to realise that travel, particularly the solo kind, is a wonderful way to open up to the world and new possibilities.
I didn't let the mildly grey weather forecast deter me as, all around, Britain was glistening in the sun, nor did I let that most readily available of excuses – money – derail the adventure. Yes Copenhagen is among the most expensive cities in Europe – 15 to 20 per cent more than London by my bottled water, coffee and train ticket index – but it more than makes up for it with its comforting sense of ease and indulgence in life's pleasures. (Incidentally, I have since read that the heavy cost of bottled water is a ploy to encourage more people to drink from the tap, a source that is filtered and perfectly adequate. I think they need to replicate this in the Southeast.)
In any case, there is no shortage of ways to roam on a budget, from finding a quirky gem of a flat in the hip quarter of Norrebro on Airbnb, to taking the free tour, on foot or by bike. And for food, you could do a lot worse than survive on a diet of smorrebrod (open sandwiches), quintessential street food from the pølsevognen (hot dog stands) or one of the many falafel and kebab stores dotted around the city. Of course, treat yourself at least once to impeccably prepared Nordic cuisine from a local favourite such as Relae or brunch at chefs' favourite Granola. But for everything else, there's Fakta, the supermarket. Danes love to buy a few six-packs and congregate by the riverside during the summer. And they can. So join them.
As stoic as the Danes are, winters can be harsh so summer is a time where the city is in full bloom … at its best … buzzing, although not in the 24/7 London sense. (Exuberance is not the first word that comes to mind in this city.) I arrived in the midst of a busy calendar: the jazz festival had just finished, fashion week was winding down, electronic music festival Strøm was in full flow and preparations were underway for "Northern Europe's biggest food festival", Copenhagen Cooking.
Three things that Copenhagen does very well are style, comfort and cleanliness. The city has received numerous awards over the past few years including topping the UN's first Global Happiness Report in 2012 and Monocle's 'Most Liveable City" and "Best Quality of Life" surveys the following year. A large part of their success has been their will to preserve the city's "green and blue" spaces, together with a careful consideration of what amenities will improve the lives of residents and their families without clogging up the wheels of commerce. Next, as the 2014 European Green Capital, Copenhagen will act as a blueprint for efficient and democratic urban planning with ambitious aims to have 50 per cent of people cycling to their place of work or education by 2015 (35 per cent cycled to their workplace or school in 2010) and a commitment to reach carbon neutral status by 2025.
There are plenty of blog posts listing fascinating facts about the city like this, or offering useful tips like this and this, so I thought I would briefly make five observations about Copenhagen; the things that made the biggest impression on me during my stay.
1. BEAUTY IS EVERYWHERE
One day was all it took for me to develop a real complex about the attention I was giving the locals. I am not saying that there is a Helena Christensen hanging on every street corner, but almost everyone, man or woman, is alarmingly attractive and yet blissfully unaware of one another. They dress well too (and not just in draped black and grey or tight leather like a Rick Owens or Acne model). No wonder the world's most popular sperm bank is located in Denmark (Aarhus), ready to dispense some of these good-looking genes to the rest of the world.
What a refreshing contrast to the head-turning and ogling so prevalent in other countries like England. But by beauty I also mean the municipal art, the architecture, the grounds, the abundance of elegant human-centred design – from big statement pieces such as Henning Larsen's Copenhagen Opera House and the man-made beach at Amager Strandpark to more everyday creations including the Eames high chairs in the airport and those luxury wood-grain table trays on the train that gracefully rise into place… When you have been raised in such an aesthetically rich environment how can you not appreciate beauty in its many forms?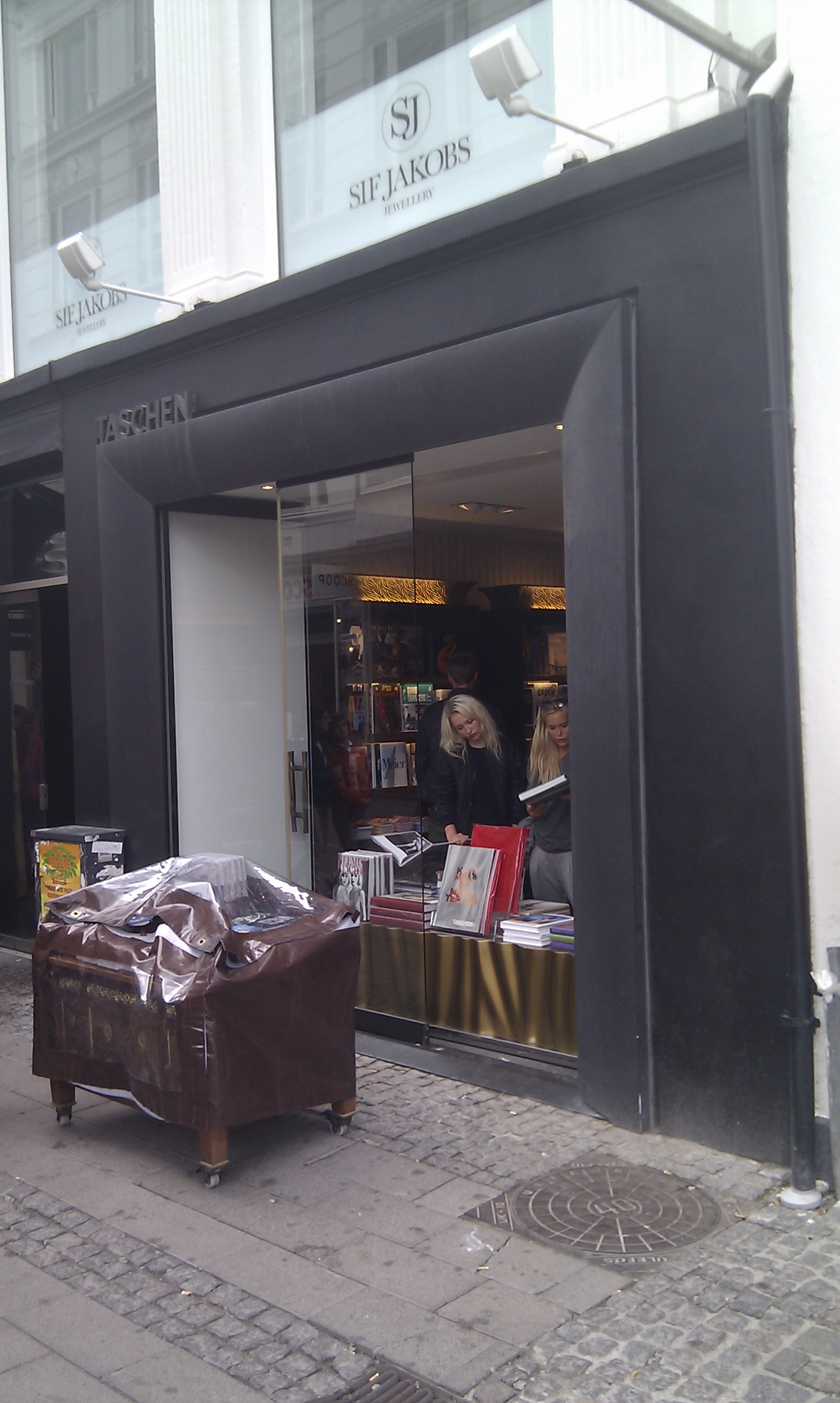 2. EVERYONE IS HAPPY, AREN'T THEY?
Let's go beyond the surveys and empirical evidence. I walked across the city many times during my stay, from the boutiques and cafes of Sankt Hans Torv in Norrebro to the idyllic riverside homes of Christianshavn and the hemp-rich photo-free bohemia of Christiania, the popular Strøget (the longest pedestrian shopping area in Europe) and the seedier backstreets of Istedgade in Kødbyen (the meatpacking district of Vesterbro). No arguments, tension, trouble, scruffles… Instead smiles, deep conversation, exercise, enjoyment of one's surroundings … and well-behaved children. Even when I did manage to find a child ready to act up, he did it ever so sweetly and silently. Amazing. I couldn't imagine anyone getting worked up in Copenhagen. This is a city where a mother would feel comfortable leaving her child alone outside the store; where parents aren't required to give permission slips for their children to go on outings.
Although taxation is crippling over here, new mothers are treated like queens, childcare provision is excellent and higher education is free for students from the EU/EEA and Switzerland. My impression is that every Dane today has the freedom and opportunity to lead a successful and fulfilling life from the cradle to the grave. How's that for welfare, Mr Beveridge? However, beneath this placid and perfectly content exterior you can't help but wonder whether a few cracks occasionally appear. This is the home of Kierkegaard after all, the father of existentialism and philosopher of anxiety. The nation that has recently probed the darker recesses of the human condition through successful shows such as The Killing, Borgen and The Bridge. The evidence in favour of happiness is compelling, but I couldn't help but wonder if all is as it seems. Perhaps it's more a case of Danes managing their expectations in life as the following AFP report suggests…
3. CYCLISTS AND DRIVERS LIVE SIDE BY SIDE
The air of peaceful co-existence in Copenhagen even extends to two great adversaries of modern metropolitan life. Apparently Copenhagen used to be a motor city with people commuting from the suburbs. Then the oil crisis hit in the Seventies and the government was forced to incorporate other means of transport into their planning. Copenhagen is on a mission to become the world's greatest cycling city and who would bet against them. There are dedicated wide lanes on all roads, sandwiched between the pavement and vehicle lane, and you can reach any district of the city within 20 minutes from the centre. Faster, cheaper, with an abundance of storage space on the street and by stations… Put simply, Copenhagen is a two-wheelers' town. It was Copenhagen's chic cycle culture that first attracted me to the city several years ago. If you can peddle along while chatting on your phone and eating your lunch a fork and knife, all while looking immaculate, consider yourself a true CPH local. Next time…
4. NO STARBUCKS, LOTS OF ONE-OFFS
I believe that everyone should pay their taxes but I am not one of those belligerent socialist types that boycott a shop because it's a chain. I support homegrown and independent retailers; the green goddess is a last resort. So it was refreshing to not have Starbucks, or someone like Pret for that matter, occupying every other unit on every other street. In its place you have much smaller and arguably better names such as Coffee Collective and Kaffeplantagen beside quirkier options such as Kaffe & Vinyl (if you fancy a dig) or The Laundomat Cafe (if you're down to your last pair of pants). This is a city that thrives on its entrepreneurial spirit but in a collaborative rather than stuffy sense. Out of that comes a more whimsical take on enterprise.
On the subject of shopping, there are so many fashion boutiques to pop into if you are looking for something to splurge on. Brands such as Wood Wood, Mads Nørgaard and Henrik Vibsov (whose installation of stuffed objects, manipulated forms and mechanised structures at GL Strand is fascinating) offer a thoughtfully crafted selection of cuts and fabrics for fans of smart casual couture. Copenhagen is also a goldmine for one-off antiques and second-hand furniture collectors. The best tips I received were Ingerslev Antik (in and around Ravnsborggade), Smallegade (for boot fairs), Danish Classic on Bredgade and Retrograd (by Islands Brygge) for all your vintage homeware needs. There are countless others.
Leave the centre, get lost and stumble upon something special. Unless there happens to be a Viking market on during your stay and you're seduced by a silver half-moon fertility pendant like my friend Carmen. Then it is certainly your lucky day.
5. MALMO IS NEXT DOOR
Here's to Scandinavian unity. It turns out that Malmo is only a 35-minute train journey away across the Öresund bridge, a marvel of engineering. And what's more you can afford to be an idiot, have a few drinks the night before, start late, leave your passport in the flat and still be welcomed into another country with time to discover. It's that two-for-one feeling, where you squeeze every last bit of enjoyment from the trip, that I really love. And Malmo is worth the trip. Similarly calm, clean and picturesque with its river city ambiance. Their annual festival was on so we chatted to a few stall owners in Lilla Torg (the square) and tasted the most refreshing raspberry juice and surprisingly moorish licorice (coming to a food store near you). I ate mouse for the first time and had a well deserved coffee while looking out over the stunning harbour after a lengthy trek. There was also an opportunity to visit the Museum of Modern Art (a tastefully converted fire station) where Icelandic artist Ragnar Kjartansson pondered the gloomy and melancholic notion of Scandinavian Pain. How? Through an encounter with Edvard Munch in a barn and a side-splitting cover of Abba'sThe Winner Takes it All. On the subject of sadness, there was no time to visit one of my favourite clothing stores, Tres Bien. Not bad for an afternoon's 'work', otherwise.
+ You should also make time to visit Louisiana Museum of Modern Art, situated in Humlebæk, 35 kilometres north of Copenhagen. The grounds alone are stunning and worthy of a few hours. Yoko Ono has a retrospective showing at the moment; I think it differs from the one that was on at London's Serpentine last year.