Boris v Dave. Eton chums go head to head. It's Tory civil war. Yawn. Over the past few months, it's been frustrating to see the media so obsessed with personalities rather than the actual facts. How is the public supposed to make an informed decision on the EU debate? Forecasts are not facts and neither are estimates. You would think an MP knew the difference, well-educated lot that they are. As one Newsnight audience member asked, 'Why do the facts change depending on who's giving them?"
The debate has sunk into absurdity, spurious lines flying in both directions. The EU is clearly not the Third Reich as Johnson claimed, while #VoteLeave is not "patriotic" as Cameron said. When the Prime Minister does address the key Brexit arguments, he does make a plausible case. Until he drops a pamphlet through your letterbox, claiming, with apparent certainty, that more than three million jobs "are linked to our trade with the EU". That is a contentious figure. Anyway, who's to say that those jobs will automatically go if the country votes to leave?
On the other hand, outside the EU we would not be saving £350m a week as Michael Gove and others argue. How empowering it feels to say "take back control", "be the master if your own destiny", doesn't it. They are also sweeping and simplistic statements. Oh look, #VoteLeave have their own missive.
Where is the balanced and rational debate? Two rare qualities in a politician are humility and honesty: the ability to admit fault and acknowledge the strength of an opposing argument. We see it, week in, week out on Question Time, Prime Minister's Questions and countless interviews. Regardless of where you think this referendum is a popularity contest, a battle of ideologies or the dawn of the apocalypse, you probably shouldn't trust either side. So what should you do?
I don't agree with comedian David Mitchell's argument that the EU referendum is a "random vote", that this decision is beyond the public. No doubt, the political system has failed us and correspondents should be cutting through the core issues with far greater acuity. But the onus is on each of us to individually research and assess both sides of the argument in the context of our own lives. And to question the motives of those offering their opinions. When asking whether the EU is good for Britain, ask yourself what Britain are you talking about? What Britain would you like to live in with your family and how likely is it to become a reality?
What appeals to a working mother in a low-income family will differ dramatically from the benefits favoured by a CEO sitting snugly in business class. Understandably, there is a lot of resentment in society regarding austerity, public services, housing… The working class, in particular, is being squeezed. They have little patience for the intricacies of Brussels are looking to point the finger. Is the EU really to blame or should the government be on trial? My main concerns are equality of opportunity and shared prosperity in the UK but also genuine harmony and collaboration across the continent. If that's not too utopian…
Here is the big problem: no one knows what will happen in the future. Brexit supporters cannot say with any certainty how easy it will be to negotiate trade deals or what the impact our exit will have on the economy. Equally, those in the remain camp can't guarantee that the EU will evolve to effectively control immigration, better facilitate trade and broker new deals beyond the single market. Broadcaster and former BBC economics correspondent Paul Mason said on Newsnight a few weeks ago, its "impossible for the European Union to be a democracy" (before revealing he would vote remain to foil the "crazed right-wing Conservatives").
Opinion is divided across the land. For some, it's an instinctive, blood-boiling choice. For others, a few lines of reasoning are required. Here are a few that caught my eye in the comments sections.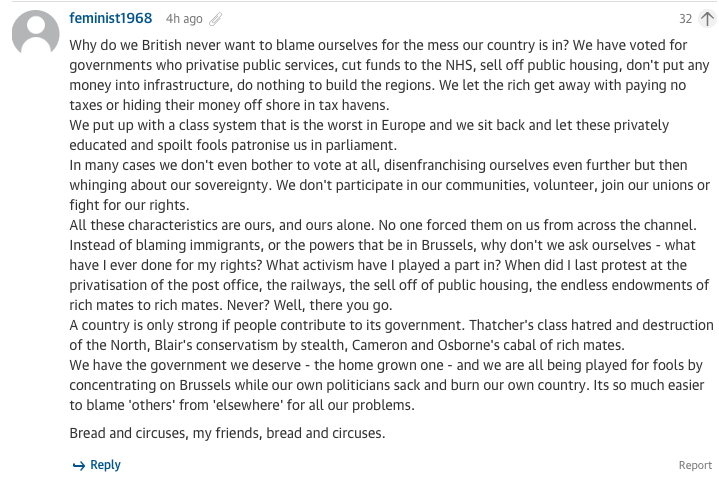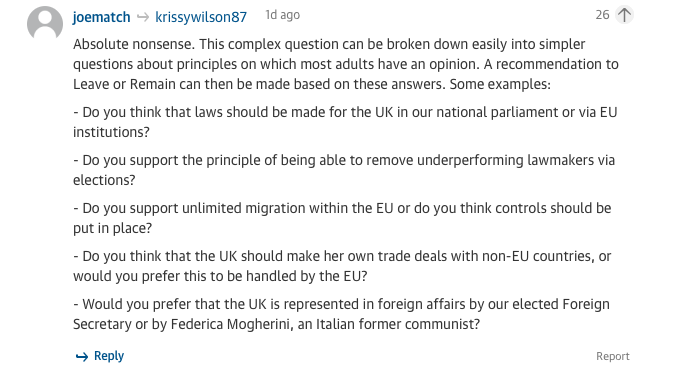 You remember how your teacher would ask you to show your working in maths class? Well that's what I'm about to do here. Hopefully it's useful to you. If I can debunk a few myths in the process, then all the better. It's a long one though. So take a deep breath, get a big up of builder's and have two aspirin at the ready.
ECONOMY/TRADE
Leave
Our net contribution to the EU, taking into account the rebate, is £35m per day according to the Daily Telegraph; £280m a week says the Independent. The House of Lords estimate is between £8.6bn and £10bn per annum. This money could (if you trust your government) be redirected into public services and the NHS. Not all of it though – Norway contributes to the EU despite only have an EEA agreement. In contrast, there is no definitive study on the economic benefits of being a member of the EU.
We are trading less and less with EU member states (down to around 45% in 2015 from 52% the previous year). Outside, we would be free to make new trade deals with growing economies such as India, China, Australia and the US. The EU does have free trade deals with "50 partners" but the Daily Telegraph argues that, "the more countries involved in a trade deal the harder, slower and worse the result." The current trade deficit would also strengthen the UK's bargaining power.
We would be free to reallocate resources that the EU tells us how to spend. Kent Matthews is the Sir Julian Hodge Professor of Banking and Finance at Cardiff University. "Price support systems and subsidies, as in the Common Agricultural Policy, result in a misallocation of resources. The removal of the price support payments will lower prices to consumers."
The UK economy is becoming increasingly services-focused (manufacturing comprises less than 10%), the majority of which are exported outside the EU so there is no reason for Brexit.
Some leave campaigners draw parallels with the Conservative government's campaign to keep the UK in the ERM. That time round, interest rates soared, bankruptcies came thick and fast, and the banks made huge losses. After Black Wednesday and the surge of the Deutsche mark the pound fell by 17%. This was the best thing that had happened to the British economy in a long time. The weakened pound and falling interest rates made UK goods and services competitive again. In turn, the trade deficit reduced.
Crowdsourced film Brexit: The Movie put forward a powerful economic argument – that the EU "had slid from free trade into crony capitalism and protectionism" as MEP Daniel Hannan put it. Another voice tells us that, "EU regulations and trade barriers have pushed up the price of everything and cut us off from the rest of the world." (There is a particularly compelling case study at the Tate & Lyle factory in East London, about 42m 40s in.) Instead, we should be emulating "super-democracy" Switzerland whose combined trade deals total £29.2 trillion compared to £5.23 trillion for the whole of the EU (£18.4 trillion if you count internal deals).
Not all EU trade deals are positive. Ceta (the Comprehensive Economic and Trade Agreement) will reduce "obstacles to trade" between Canada and the EU, threatening "unfairness" actions in commercial arbitration courts against governments if they impose regulations to protect food safety, workers' rights and environmental regulation. US trade deal TTIP also poses concerns. Both could be an open door for big business to abuse and exploit.
Remain
Verdict

The economic case to leave is simply not convincing enough. If the public did vote to leave, a tense and hard-fought negotiation (under article 50 of the Lisbon Treaty) would commence over the next two years at least, resulting in something between the current EEA Norway-type agreement and what some commentators have dubbed "single market lite". That might cost somewhere between €340m and €600m as currently paid in contributions by Norway and Switzerland respectively. And at what price to the consumer? Also, this referendum is not just about trade.
ImmigratioN
Leave

Remain
UK can limit non-contributory, in-work benefits for up to four years (phased in after initial exclusion). This emergency brake would be in place for a maximum of seven years.

Child benefit being sent back home will be linked to the cost of living in the countries where the children live. These rules would apply immediately for new arrivals and from 2020 for existing claimants.

New EU arrivals will be banned from claiming jobseeker's allowance for three months. If they haven't found a job within six months they will be asked to leave the UK.

If workers lose their job through no fault of their own, they will be entitled to six months of jobseeker's allowance and housing benefit, just like the rest of us.
Verdict

The undeniable fact is that the Government has lost control of our borders. Like a deluded company that takes on staff it can neither safely accommodate nor fairly pay. Reform is urgently required and Cameron's deal is a bare minimum. However, the anti-immigrant rhetoric is shameless. One example: #VoteLeave campaigners (and Defence Minister Penny Mordaunt in particular) are scaremongering regarding the possible influx from accession states such as Turkey and Albania, should they join the EU. As an LSE professor of EU law confirmed to the BBC, each member state does have a veto and it will be "many many years" before Turkey is let in. (Read a brief case history here.) The reports above say the majority of those coming to the UK are contributors to society.
Matthew Elliott, Chief Executive of Vote Leave, is also wrong to claim that, "The EU is speeding up the process of Turkey joining and we are paying nearly £2 billion to help make it happen." According to BBC Reality Check: "Over a seven year period, £1.2bn of the UK's contributions to the EU Budget will go to seven candidate states. The UK committed another £250m towards helping Turkey support Syrian refugees for two years and might commit more in the future."
Consider, also, that immigration is not just an EU issue. Leaving will not solve the problem. So, security threats notwithstanding, unless there is full and comprehensive audit showing that the majority of EU migrants bleed public resources and exploit the welfare system, this is not a clear justification to leave.


Sovereignty
Leave
Good luck trying to calculate the number of pieces of UK legislation originating in Brussels. (It's somewhere between 15% and 60 according to this Daily Mirror article.) What we do know is that the EU is exerting a greater influence year after year.
The UK currently has only 8.4% of voting power 'say' in the EU, and the Lisbon Treaty ensured the loss of Britain's veto in many more policy areas.
Britain's 73 MEPs are a minority within the 751 in the European Parliament.
With further enlargement (Croatia, Turkey's 79 million citizens), British influence would be further watered down.
The BBC reports that the UK's influence in Brussels in on the wane and a recruitment drive is needed to get more UK representatives working in the Commission.
We would have far more leverage outside EU as an independent sovereign nation and the world's fifth largest economy.
Remain
Verdict

Nick Clegg argued on a Jeremy Paxman documentary that exercising sovereignty requires an element of pooling. "Sovereignty has been extended, it hasn't been restricted," he said. "It's a trade off. It's something you share with others to do the things you can't do on your own." One example is workers' rights (see below). Another would be climate change, as this open letter to the Guardian explains (signed by from former Climate Change Secretary Chris Huhne and Greenpeace Executive Director John Sauven, among others): "It was a British diplomat who led the European negotiating bloc at the UN climate conference in Paris last year, persuading the EU to champion a long-term goal and a commitment to raise the world's ambition on carbon emissions reduction every five years. This was agreed by all 194 countries in the final Paris agreement. The UK could not have exerted this influence acting alone."
If Cameron's agreement is honoured this should be an adequate check on overbearing Brussels but it would be good if the UK had a stronger role in drafting and discussing legislation rather vetoing laws we don't like. The UK joining a federation of European states would not be in our interests. Some argue this is the logical conclusion of the European project. Sovereignty is probably the strongest argument in favour of Brexit but that's only if you believe sovereignty is possible in first place. Dr Davor Jancic, a Senior Researcher at the TMC Asser Institute Center for European and International Law, hits the nail on the head: "Sovereignty, of the sort advocated by Boris Johnson and Michael Gove, is illusory. In the highly interconnected digital age with unprecedented levels of socio-economic and political interdependence, having 'more' sovereignty could actually mean harmful isolation rather than greater self-rule, because many factors that critically determine such self-rule operate outside of the UK."
National Security
Leave
It is NATO that has been the bedrock of peace, not the EU. One example is Yugoslavia in the 1990s. Brussels' plodding in the Ukraine dispute with Russia is hardly encouraging. Julian Lewis, Chairman of the House of Commons Defence Committee, wrote in the Daily Telegraph: "In order to deter, collective security must combine adequate power with a high probability of its use in response to attack. On both grounds, NATO succeeds and the EU fails as a collective security organisation. Since the US does not belong to the EU, the latter can muster only a fraction of NATO's deterrent military power."
Britain could soon be asked to contribute to a EU Army, with reports suggesting Angela Merkel may demand the Prime Minister's approval in return for other concessions (probably under Article 42 of the Treaty on European Union, which provides for substantial military integration within the institutional framework of the union). That would erode the UK's independent military force and should be opposed.
Justice Secretary Michael Gove, citing experts such as former MI6 chief Sir Richard Dearlove and ex-Interpol boss Ron Noble, claims that the EU's "open borders" policy makes us less safe in the UK. Commenting in the Daily Mail he said: "I know that the European criminal records information system (Ecris) doesn't allow us to know whether or not criminals come into this country. We only find out whether or not people have criminal records after they have already committed an offence in this country."
Remain

Verdict

As the UK's Strategic Defence and Security Review made clear, terrorists do not respect borders. Surely wider co-operation and intelligence exchange across several networks is the best way to safeguard national security and fine-tune policy? As Sir Jon Day, former Chairman of the UK government's Joint Intelligence Committee points out, "There are European countries who will talk to us more frankly [than Five Eyes members] because we are EU partners." Those relationships could exist between European countries outside the union, as former MI6 chief Sir Richard Dearlove claims, but I think they would be weaker without a explicit political commitment. Yes, the bigger the network, the greater the possibility of leaks, and border control is another big factor but there is little to be gained from leaving the EU on these grounds.


Rights

Leave
Sarah O'Connor from Financial Times observes that the EU has not been as crucial to employment rights reform as we think. "The UK implemented the Equal Pay Act in 1970, before it even joined the EU. It already had sex and race discrimination laws too, according to the TUC, while its maternity leave exceeded the EU minimum of 14 weeks when that directive came in. It is true that the EU has strengthened, expanded and updated these rights over the decades … adding the right to holiday pay, unpaid parental leave and equal treatment for part-time workers. Yet two of the biggest EU directives — the maximum 48-hour week and the agency workers' regulations — contained big loopholes or opt-outs for UK employers."
Remain
Specialists GU Employment Law say that workers' right will be under threat in a post-Brexit world even if Britain manages to secure a Norway-type single market agreement. "Leave campaigners such as the free-market group Economists for Brexit, say they want complete withdrawal from the single market so that employment laws can be repealed. The TUC says that this would allow a government with a deregulatory agenda to make much more sweeping changes to employment law, such as reducing paid holidays, parental leave entitlements, and discrimination protections for pregnant workers." A view echoed by Jeremy Corbyn. You can read more about potential threats to workers' right here.
Verdict

How much do you trust the Conservatives? Admittedly, it would take a brave government to withdraw paid holiday leave or equal treatment of workers but profit often seems to be their primary concern. Zero-hours contracts are on the rise, justified as offering both employee and employer flexibility. In reality, they offer low wages and poor job security and penalise those on reduced tax credits. As the Joseph Rowntree Foundation, an independent social research institution, state in their report: "Given the UK's record of seeking to weaken EU employment legislation, both in the EU decision-making phase and the implementation phase, it is highly unlikely that most EU-inspired employment law would survive the withdrawal: the Working Time Directive and the Temporary Agency Work Directive, in particular."
Conclusion

Sane remain campaigners are not suggesting that Britain would collapse if we left the EU but the benefits of remaining and working towards a stronger bargaining position at the table have been carelessly dismissed. The days of "Spendid Isolation" are history. Some say that voting to remain is a vote for the status quo and a red carpet for Brussels to govern even more of our everyday lives. Make no mistake, the union is bloated, too close to big business and choked by red tape. However, it still has a major role to play as a foundation for freedom, harmony and prosperity, safeguarding everything from employment rights and opportunities to a clean environment. The analysis above shows that the benefits of leaving do not outweigh the risks.
Some Brexit advocates do have strong arguments but too often the notion of control is overplayed and support is built through a combination of anger and blind hope. Maybe it's the British way. Rip it up and start again from a position of dominance, as if the Empire still existed and all others were our subjects. I have very little confidence in the Conservatives to act in the interests of the general public and tackle issues that make for a fairer and healthier society. Instead, give me collaboration and the prospect of 27 other member states holding the government to account. By leaving, we don't simply absolve ourselves of the need to compromise.
The hardest thing about making this decision is that we can't accurately predict the nature of relationship the UK will have with the EU, whether in or out. Can a member state make the EU more democratic and efficient from within? Will we be able to pursue trade agreements with non-EU countries such as China, India and the US? That does not mean you should be a 'reluctant remainer'. Vote for progress and the side you feel has the best chance of achieving it.
Young voters especially might grasp at more practical, tangible benefits: lower international roaming rates or flights; a cheaper shopping basket (in store or online); the opportunity to work anywhere within the EU without a visa or study abroad on the Erasmus programme; the ability to own a home, if they believe EU immigrants are to blame for the housing shortage. But the referendum requires that we all look further into the future, a future of uncertainty where allies will be harder to come by. Why? Because everyone is increasingly out for themselves. Diplomacy is now more important than ever.
Artist Wolfgang Tillmans and his team created a series of posters to raise awareness of the key arguments pro-EU and to encourage young voters to register before 7 June. His words struck a chord: "I feel that we have reached a critical moment that could prove to be a turning point for Europe as we know and enjoy it. The weakening of the EU is a goal being actively pursued by strongmen like Vladimir Putin and European parties on the far right. The EU a flawed and problematic institution, but on the whole it stands for a democratic world view, human rights and favours co-operation over confrontation."
*****
DATES FOR YOUR DIARY

2 June – David Cameron faces questions from journalists and live audience on Sky News at 8pm
3 June – Michael Gove faces questions from journalists and live audience on Sky News at 8pm
7 June – deadline for voters to register; David Cameron and Nigel Farage separately take questions from a live studio audience on ITV1 at 9pm (register before 31 May here)
21 June – BBC Wembley Arena debate, probably featuring Boris Johnson and Defence Secretary Michael Fallon among other
22 June – Jeremy Paxman hosts a live debate on Channel 4. Panel tbc
23 June – the big day